Auto-Upload your Zoom Recordings
to
Rated an average of 5.0 stars on G2 and TrustPilot.
Set up zBackup.app once and it will automatically sync every Zoom recording to:
Google Drive, Dropbox, OneDrive, Youtube, and/or Vimeo.
Start for free
---
View video
---
A Growing List of Integrations
.
zBackup is your one source to transfer your Zoom video recordings to up to 3 cloud destinations at any of our partners.
---
---
Don't see a destination or want to suggest one? Sign into the app and vote for which one you want next.
Set up once. Secure your recordings forever.
Setting up zBackup.app to upload your Zoom recordings is simple and takes less than 2 minutes.
---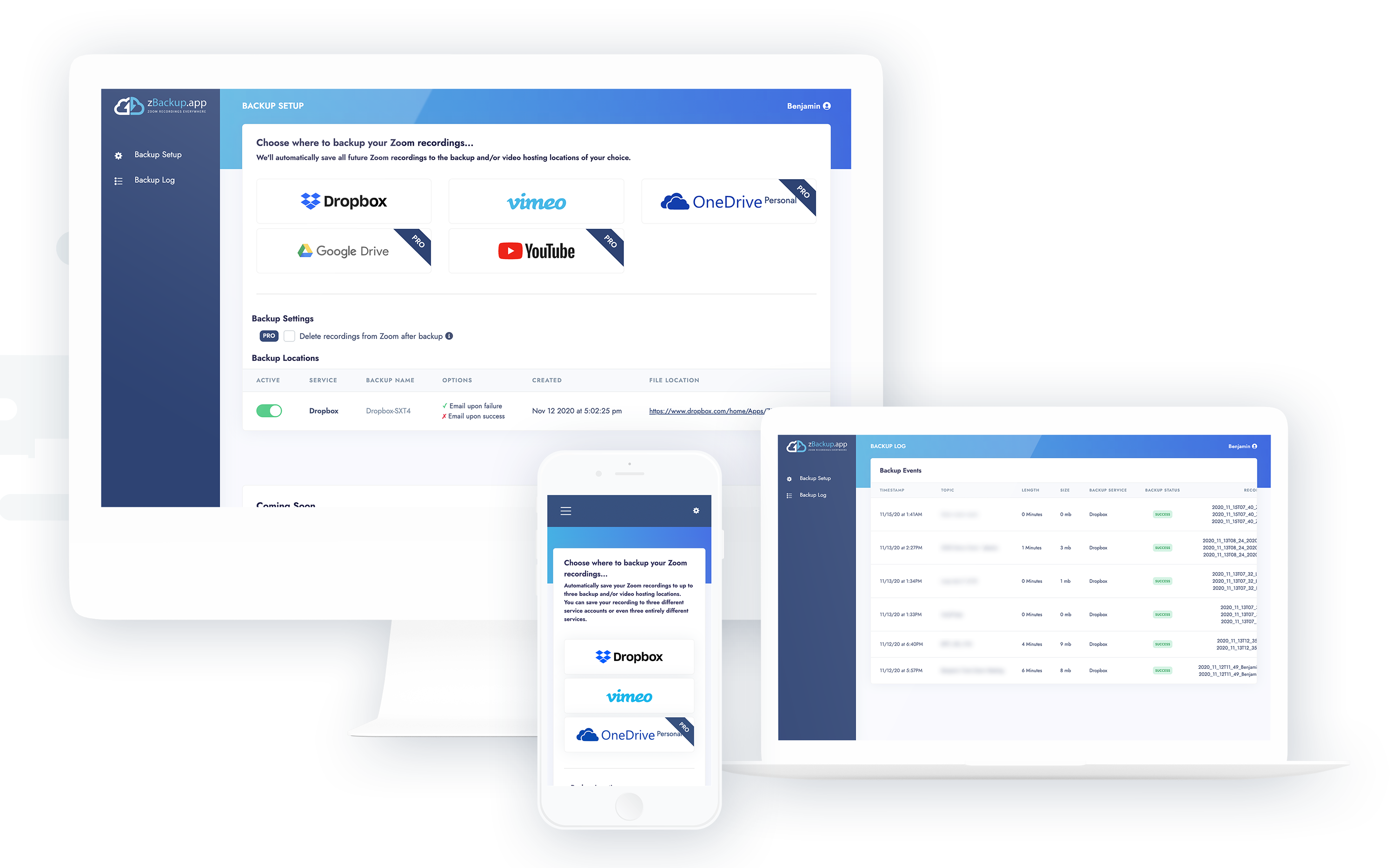 ---
1. Link Accounts
Connect zBackup.app to your Zoom and Cloud Storage accounts.
2. Select Users & Destinations
Pick where to upload your recordings to and for which Zoom users.
3. Settings
Use our default settings or customize your notification, filtering, and deletion settings.
Simple, all-inclusive pricing
.
---
Easy one-time setup
1 backup integration
Unlimited Recordings
Support Portal & Knowledgebase
Dropbox & Vimeo Only
Easy one-time setup
Up to 3 backup integrations
Unlimited Recordings
Support Portal & Knowledgebase
Upload to any app
Free up space after backup
Do you have multiple users? See zBackup for Multiple Users.
Have a special request for the chef? Learn more about our Custom Zoom Integrations.